Awaze: "Here in Europe young kids are wearing Nirvana shirts again".
While in America Dave Grohl doesn't seem tired of playing the role of the coolest guy in rock, releasing albums that are more and more heterosexual (and flamboyant), in Europe we observe a rock effervescence coming from unusual countries like Italy – until then recognized by the ballads of Laura Pausini and Eros Ramazzotti, today brings us all the lust of androgynous rock of bands like Måneskin – and Sweden, recognized by sugary pop artists like Tove Lo and The Cardigans, which has brought good revelations in the area.
And one of these new rock bands coming from Sweden is the trio Awaze, made up of musician friends who are already active in the indie scene, and who treat us with the single "Water" (a sound experience that probably killed Greta Van Fleet with envy). A mix between grunge and guitar bands revival, Awaze, by the way, has a perfect sound for Soundgarden and Led Zeppelin orphans and Queens of Stone Age lovers.
But, despite everything, Awaze feels alone when it comes to Swedish rock and roll bands. "We have plenty of friends who play music, but we don't really know a lot of other bands that have a similar style as us", says the bass player Olov Domeij.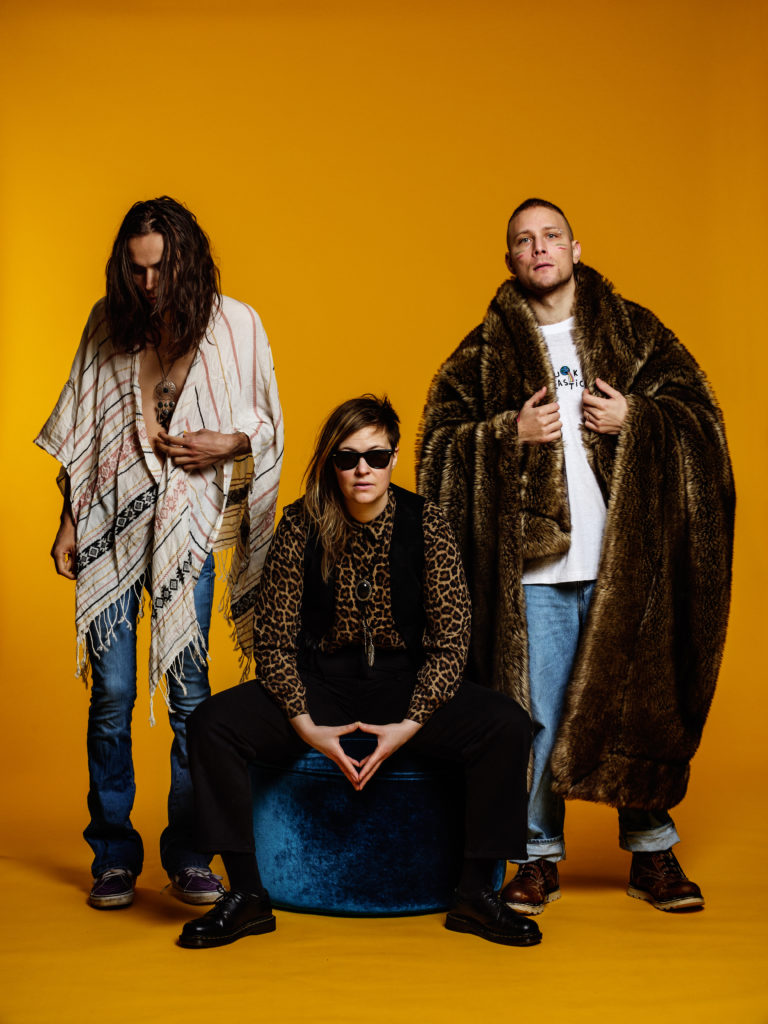 Meet the trio
Three friends, all working musicians, got together to jam in a basement one
day with no plans of starting a band whatsoever. The burst of energy that
grabbed ahold of them the second they turned their amps up however left them no choice. Stockholm trio AWAZE was formed.
We might recognize the drummer Jonna Löfgren from her ten years of playing with Scottish indie giants Glasvegas, or from tours with major Swedish acts such as Lars Winnerbäck, Vargas & Lagola and Hurula. Lead singer/guitarplayer Simon Zion became famous as "tie-dye Jesus" on Swedish Idol back in 2015 (where he came in third place), and Olov Domeij will play bass for anyone who pays him cash money – most recently he did 140 shows with Swedish rock legend Ola Salo.
2 3 things about Awaze
RC – There are a lot of good rock and roll bands coming from Sweden. Do you think there's a scene rising right now?
Olov Domeij – It's very interesting that you say that. I certainly hope you're right, I want nothing more than to be part of a vibrant living scene of rockbands who play live all the time and challenge each other to write better songs. But to be perfectly honest I don't feel like that right now, we feel kind of lonely actually. We have plenty of friends who play music, but we don't really know a lot of other bands that have a similar style as us. Maybe they exist and we just don't know them – the isolation has been weird. We're gonna be playing live a lot more soon and hopefully we'll get to know other bands that way. 
RC – Awaze has a lot of "nostalgia" in their sound…. Do you think the 21 century could be the new seventies in terms of rock and roll?
Olov Domeij – Sure, we love a lot of bands from the 60's, 70's and also the 90's. We often talk about the Doors, Jimi Hendrix, Led Zeppelin, Rage Against the Machine, Jack White, Rival Sons, and other bands at rehearsal and we just love that music endlessly. When we make music we just try to do what feels right in the moment and bounce energy off each other, we don't consciously try to have a nostalgic sound but I do agree that our love for certain bands comes across in the music.  I definitely feel like raw energetic human rock music is on the rise in some way. Here in Europe young kids are wearing Nirvana shirts again. Some Italian rock band won the Eurovision song contest. Something is definitely brewing under the surface. I don't know about a new 70s, the world was so different in every way back then (not that I would know, I was born in the 90s). But I believe in strong subcultures, so even if rocknroll will maybe never be as mainstream as it was in the Zeppelin days, I think bands will still be able to tour and have major audiences and make a living.
RC – What have you been listening to lately?
Olov Domeij – The last few days I have been spinning the album Layla and Other Assorted Love Songs by Derek and the Dominos. For those who don't know, Derek and the Dominos was a band with Eric Clapton and Duane Allman from the Allman Bros. They only released this one studio album in 1970. It's a perfect blend of blues and Beatles-esque songwriting. I enjoy it very much. Great guitar playing and I just love that early 70s production. Unfortunately they got too much into drugs to get a second album together. I also recently made a "funky soul" playlist that I have been listening too. Lots of 60s Aretha Franklin, Al Green, The Meters, Sly and the Family Stone on it. Oh and CURTIS MAYFIELD. What a genius. Oh and I always want to shout out Death From Above 1979, the greatest riffs out there today.